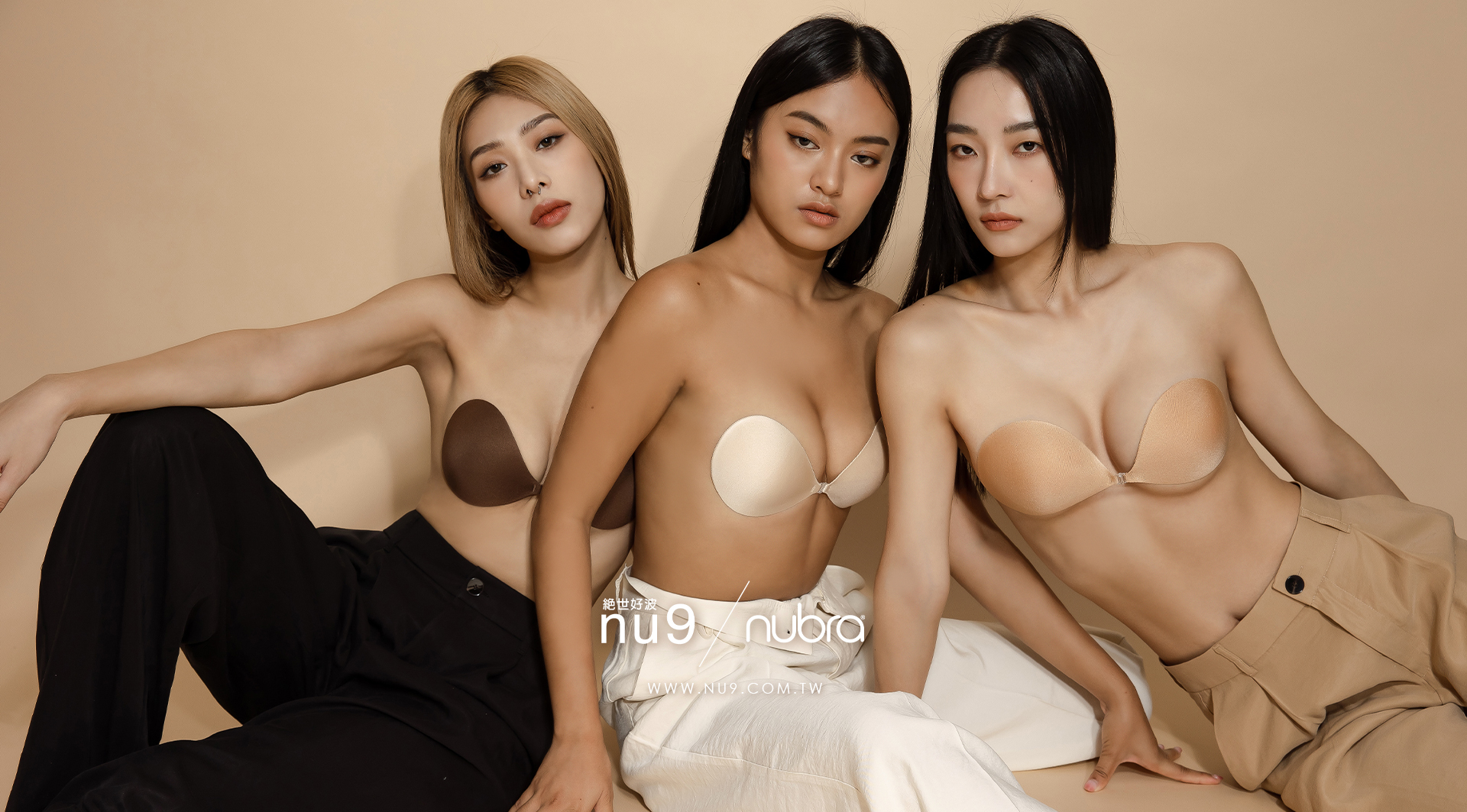 「nu9」

There are countless ways to be beautiful, but inner beauty is vital to women
Woman should have a wardrobe that belongs to underwear only.
絕世好波nu9, it's going to celebrate 19 years.
In order to fulfill the needs of more women to dress up beautifully in secret ways, we created the nu9.com.tw.
The "9" is the biggest number of single digit in decimal, which represents numerous ways of becoming beauty. 
This is giving nu9 the greatest purpose.
We will focus on inner beauty of women.
For giving girls the best weapon to being beautiful!
The secret of making women secretly beautiful - nu9
All the secrets to transformation.
— — — — — — — — — — — — — — — — — — —
PROUDLY HANDMADE
IN THE U.S.A. SINCE 2002
A TOTALLY NU WAY TO ENHANCE YOUR LOOK
NuBra is the original strapless, backless adhesive bra. Our philosophy is a simple one; make a bra that offers support, comfort and freedom, but eliminates all the stuff that make bras uncomfortable.
Since 2002, we've handmade our products in the U.S.A., using the finest and safest materials — including medical-grade adhesives.
Many women think of backless, strapless bras as just for formal occasions, but they're great for all-day, everyday use. Today, we offer a wide variety of styles and fabrics and sizes.
15 YEARS AGO, WE SET OUT TO MAKE THE WORLD'S MOST COMFORTABLE ALL-OCCASION BRA.
WHAT DID WE HAVE TO LOSE?
A majority of the imitation NuBras available in the market do not use the safest materials when manufacturing the product, some even use industrial-grade silicone and adhesive. As such, many ladies have suffered chemical burns, skin irritations, scarring as well as other side effects after wearing such imitation products. These ladies who are now our NuBra customers have voiced out their concerns regarding such inferior quality products in the market that have been causing harm to the users.

A cheaper adhesive bra does not always mean that it would be safe to wear. Many of these imitation products are manufactured with non-approved and non-skin-safe materials, summing up the reason for their lower price points.

Our team at NuBra Boutique wishes to address the differences between the authentic NuBra with the imitation products available in the market so that you, as consumers would be able to make safe and informed decisions when purchasing strapless and adhesive bras.

Important To Note: 
A lower-priced alternative may lead to future health concerns that may be irreversible and detrimental. Ladies, would you like to take on such a significant risk to wear an unsafe product on your body?

TRADEMARK NOTICE
NuBra is a registered trademark, service mark, and/or trade name of Bragel International, Inc. All rights reserved. All other trademarks, service marks, and trade names contained in NuBra Website are the properties of the respective owners. NuBra disclaims any proprietary interest in trademarks, service marks and trade names other than its own. No use of these marks may be made without the prior written authorization of NuBra, except as necessary to accurately identify the products or services of NuBra.
Bragel International, Inc. d.b.a. NuBra
Taiwan NuBra Co., LTD.
TEL:0800-527-255
MAIL:cw.trade@msa.hinet.net
MON-FRI:Monday ~Friday 
AM 9:00-PM 06:00
13F., No.43, Sec.3, Sinyi Rd., Da-an Dist., Taipei 106, Taiwan